Dental Implants are artificial roots, usually made of titanium which are fused to the jaw bone and help attach one or more artificial teeth. In many cases, the final result will look and feel just like your natural tooth. Dr Baret has been successfully handling implant cases since 1986 with patients including members of his own family.

Dental implants may offer solutions to the patients who:
• have lost a single tooth and want a single tooth implant rather than a bridge
• cannot chew comfortably or efficiently with conventional dentures
• have lost teeth and don't want to wear partial dentures
• are wearing a partial or full denture but want a fixed replacement for their missing teeth

Modern "Osseo-integrated" dental implants have been around for over 35 years. Research shows that the success rate for dental implants can be over 95% - this is one of the highest of any surgical procedure! Most of the dental implants placed in the 1960's and 1970's are still in function today, and the original long-term research program, started in Gothenburg Sweden by Professor PI Brannermark is still continuing today, uninterrupted over 35 years. The success of dental implants is due to the extensive research which is now being continued in implant research centres world-wide. As long as there are no contraindications in your medical history, we can be confident of excellent, aesthetic, long-term success.

To this end, we at Integrated Dentistry only work with the best available implant surgery specialists, who are the surgeons who place the implant in the bone. We then place the appropriate tooth replacement over the implant(s) to provide the required structure and function. Your first step is to arrange a consultation where we can start working on your specific needs. Important diagnostic information will include photographs, X-rays and models of your teeth. Some X-rays are undertaken by a Radiologist at a separate centre. Depending on the initial condition of your mouth, there are various possible options for tooth replacement, including individual teeth, groups of teeth called a bridge or a sturdy but removable over-denture. Once we have discussed your treatment needs, treatment may begin.

Treatment time depends on what we do. Many options range over 3 to 8 months. Sometimes, if we need to grow bone, treatment may take over twelve months. These decisions are made only following discussions between your dentist at Integrated Dentistry and the Implant Surgeon. The treatment phase begins with the surgical placement of the implant into the bone, by the implant surgery specialist. In some cases, where there is not enough bone to successfully support an implant, the surgeon will suggest various possibilities for "bone augmentation". If bone augmentation is needed, it is sometimes done at the time the implant is placed, or in the more complex cases, it is done first, as a separate procedure. After the implant has set firmly in the bone, we can place the crown, bridge or other superstructure on the implant(s) at Integrated Dentistry. The process of "Osseo-integration" is when the bone heals and attaches to the implant surface. At the end of this setting period, the implant is immovable.

The crowns or bridges placed on these implants are very strong and stable. They require the same level of care that you should give to your natural teeth. For the same reasons you lost your natural teeth, your implants may fail! Poor oral hygiene is the greatest cause of failure of dental implants. The build up of dental plaque and calculus around the teeth means an increase in bacteria and toxins which cause destructive inflammation and infection of the supporting gum and bone. This may lead to swollen gums and loss of bone which supports the teeth and dental implants. Excellent oral hygiene is necessary and vital for the long term success of your implants and permanent teeth. Part of the long-term success of your teeth is dependent on frequent visits to our office.

Personalised instruction, as well as cleaning around the dental implants and any remaining teeth is important and an integral part to the success and health of your new implant supported teeth. Some people are concerned that there will be a period when they will have visible gaps where there are no teeth. In almost all cases, this can be avoided – if you are currently wearing a denture, it can be modified for continued use during the healing phase; if you do not have a denture, a temporary plate, or in some cases a temporary bridge, can be made so that there will be no embarrassment. The fees vary according to the complexity of the overall restoration. The variables include – the number of missing teeth; the number of implants required; whether or not bone augmentation is required; and the type of restoration to be placed over the implants. Implants should be considered an investment in your long term health and comfort as the long-term success is often superior to the discomfort and repetitive temporary solutions that have traditionally been used. During our treatment planning process you will see how we can tailor a unique solution to fit within your budget and circumstances.
If you have any questions relating to your Dental Implant treatment, we will make sure that they are answered during the planning process. Any general questions can be asked by contacting us by email.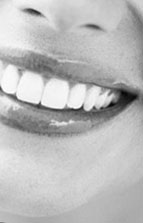 You should not be able to tell
which tooth is an implant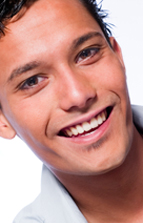 You should be able to laugh
like this with confidence that nobody can tell that you
have a false tooth.